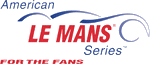 Road Atlanta 2003
Petit Le Mans
18/10/2003
18/10/2003
ADT Finish On A High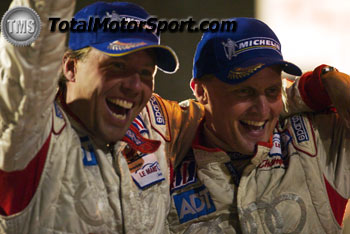 Team ADT Champion Racing brought down the curtain on the 2003 American Le Mans Series in spectacular style with a fantastic lights-to-flag victory in the prestigious "Petit Le Mans" 1,000-mile race at Road Atlanta today.

Johnny Herbert and JJ Lehto scored the Florida-based team's fourth ALMS victory of the season courtesy of a comfortable eight-lap win over the Panoz of Olivier Beretta/David Saelens/Max Papis.

Lehto and Herbert had to be content with third and fourth places in the final Driver's standings after Frank Biela and Joest Audi co-driver Marco Werner recovered to claim third place and take the title with Team ADT Champion Racing netting second in the Teams' category.

JJ had started third on the 36-car grid but completed the opening lap in the lead, after slipping ahead of the pole-starting Werner on the exit of Turn 1 while the front row starting James Weaver (Lola MG) was instructed to drop behind Werner having jumped the rolling start and soon afterwards retired.

The two Audis were never more than 12-seconds apart for the opening 96-minutes of hard racing but then Biela, having taken over from Werner during the third full course yellow, collided with a backmarker which sent the Joest Audi in to the outside wall.

Major repairs were made and Biela resumed in 27th place (sixth in class LMP900) over 10-minutes later which left the ADT Champion Audi two-laps clear of Gunnar Jeanette/Ben Leuenberger/Scott Maxwell (Panoz).

At one-third distance, Herbert led Beretta/Saelens/Papis (Panoz) by almost three laps while the Biela/Joest Audi had clawed its way back to ninth overall (fourth in class). With 500-miles run, all in warm sunshine and under a clear, blue sky, JJ had extended the advantage to almost five laps with the Joest Audi now sixth overall (fourth in class).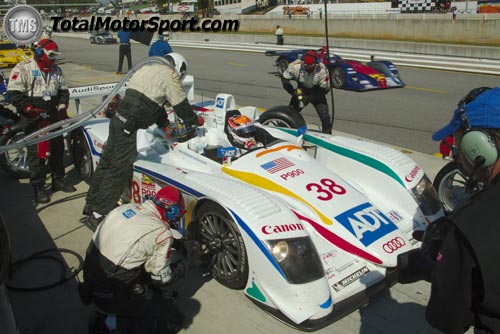 After six hours Biela/Werner had worked their way back up to third but lost time having a battery change - a problem that had affected the Champion Audi an hour earlier but which now enjoyed a four-lap lead advantage.

Joest Audi duo Biela and Werner began the race with a 14-point lead over Lehto and needed only to complete 70% of the "Petit Le Mans" to claim the Driver's and Teams' titles. Incredibly, Werner spun on the very lap equating to that distance, requiring a tow out of the gravel trap followed by a precautionary pit-stop and so won the titles in the pit-lane.

The ADT Champion Audi R8, which was able to cruise home in darkness to an untroubled victory, made five of its 10 pit-stops under racing conditions in a race that included eight full course yellow caution periods accounting for approximately 112 minutes in the 9hrs 31mins 10.608secs race. Stefan Johansson, who had helped the team achieve second and third places in the Sebring 12-Hours and the 24 Hours of Le Mans, was on hand in case either Lehto or Herbert suffered from fatigue but ultimately did not drive in the race.

It was a stunningly successful weekend for Dave Maraj's Pompano Beach-based Champion Racing squad in Georgia. In addition to scoring its fourth ALMS victory, Randy Pobst earned the team its first Speed GT World Challenge victory of the season the previous day.

Johnny Herbert:
"The nose section was changed during my first stint [after 3hrs] as a precaution because the brake cooling louvers were becoming damaged due to tyre pick-up. At the end of my second stint, there was a massive hole in the bodywork where the louver had totally disintegrated again and torn away much of the bodywork over the wheel. I was able to relax and take no risks whatsoever during my second stint - there was no pressure. From a personal point of view, having missed out on victory at Sebring and at Le Mans, to win the "Petit" is very satisfying and I'm delighted for Dave Maraj whose team has shown this year that it can not only match but now regularly beat the hugely respected and successful Joest Audi team."

JJ Lehto:
"I dived inside Marco [Werner] exiting Turn 1 at the start and then James [Weaver] had to pull over coming down the hill so I led at the end of the first lap. We had to change a battery during my second stint when the Audi refused to fire-up [after 4hr 47min]. But I had to pit again moments later when the crew noticed the nose had worked lose which was replaced [after 5hr 10min]. I needed to win this race to stand any hope of snatching the title - we gave it our best shot and Johnny and I achieved the necessary race victory but in terms of the championship, it wasn't quite enough."

Dave Maraj, Team ADT Champion Racing, Team Owner:
"I am extremely proud of what my team has achieved this year in terms of the American Le Mans Series and at Le Mans itself. I aim to be back next year to win the championship."


Copyright ©2000-©2016 TotalMotorSport