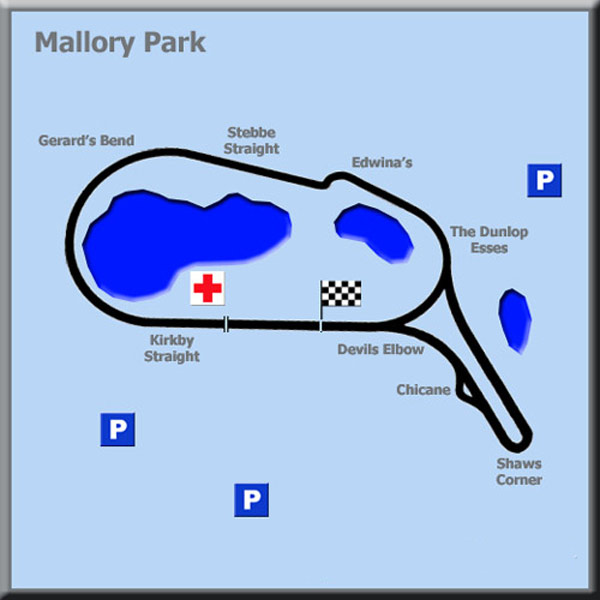 Country
UnitedKingdom
Track lengths
1.39 Miles
Track Records
Track Type
Racing Circuit
Address
Mallory Park (Motorsport) Limited
Mallory Park Circuit, Kirkby Mallory,
Leicestershire, LE9 7QE
UK

Phone: 01455 842931/2/3
Fax: 01455 848289

- R A C E L I N E - Raceline: 09066 55 59 60*
*Calls charged at 60p/ min
Email
sales@mallorypark.co.uk
Web
www.mallorypark.co.uk
Directions
How You Can Find Mallory Park
Mallory Park is situated in the village of Kirkby Mallory, just off the A47, between Leicester and Hinckley. There is easy access by road and all major cities are in reach.

Look for the brown tourism road signs, including those which bring you direct from junction 21 of the M1.

Leicester - 8 miles (A47)
Birmingham - 30 miles ( M6, M69 junction 1, A5)
Coventry - 12 miles (M69 junction 1, A5)
Derby - 30 miles (M1 Junction 21, A47)
London - 95 miles (M1, junction 21, A47)
Manchester - 90 miles (M6, M69 junction 1, A5)
Northampton - 30 miles (M1, junction 21, A47)
Sheffield/Leeds - 90 miles (M1, junction 21, A47)


The nearest British Rail station is at Nuneaton (01162-481000)

Nearest Airports
Birmingham International (30 Minutes)
East Midlands (01332 852852)

Mallory Park - Accommodation - 2003

Where To Stay
APPLE ORCHARD FARM 01455 213186
Fenn Lane, Dadlington. Relaxed farmhouse accommodation with en-suite bathrooms. 10 minutes from circuit.

BADGERS MOUNT HOTEL 01455 848161
Approx. 3 miles from Mallory Park. There are 17 en-suite bedrooms, all with TV and tea/coffee making facilities, a bar and outdoor heated swimming pool. info@badgersmount.com

BOSWORTH FIRS 01455 290727
Bosworth Road, Market Bosworth. Comfortable and friendly 2 crown accommodation, 5 minutes from the circuit. Garage & car parking.

THE GUEST HOUSE 01455 446602 / 619720
45 Priesthills Road, Hinckley. Comfortable and friendly accommodation. 4 miles from the circuit with car parking.

HANOVER INTERNATIONAL HOTEL 01455 631122
(Formerly Hinckley Island), Jcn. 1 M69/A5. Modern Hotel with luxury rooms, restaurants, bars, conference & leisure facilities.

KIRKBY LODGE FARM 01455 292089
Bosworth Road, Kirkby Mallory. Farmhouse accommodation, residents lounge, evening meal by arrangement. Transporter/ trailer parking. Home of Brooklands Motorsport. 2 minutes from circuit.

MILLVIEW COTTAGE 01530 272600
School Lane, Newton Burgoland. Self-contained cottage offering private and comfortable accommodation with one twin bedroom, 10 minutes from circuit
www.millviewcottage.co.uk

ROYAL ARMS 01455 290263
Sutton Cheney. Meals served lunchtime & evenings. Accommodation. Function room. Traditional/guest beers. 5 minutes from circuit. www.royalarms.co.uk

SKETCHLEY GRANGE 01455 251133
Sketchley Lane, Burbage. Quality 4 star country house hotel and conference centre. Health & leisure club www.sketchleygrange.co.uk

WOODLANDS GUEST HOUSE 01455 617434/ 446548 or 0850 292626
45 Woodlands Road, Hinckley. Comfortable and friendly accommodation ten minutes from circuit.
Where To Eat
Where To Drink
Copyright ©2000-©2016 TotalMotorSport