Much better Porsche...

INTRODUCTION

Customers in international FIA GT and ALMS races including Le Mans have noted substantial handling benefits in the use of the Ricardo modified chassis. Enhanced turn-in, traction, and tyre life have been achieved by complementing the added torsional performance of the shell with springs, dampers and anti-roll bars developed through testing and racing. In addition to this an up-rated cooling package and an engine test and development service are available.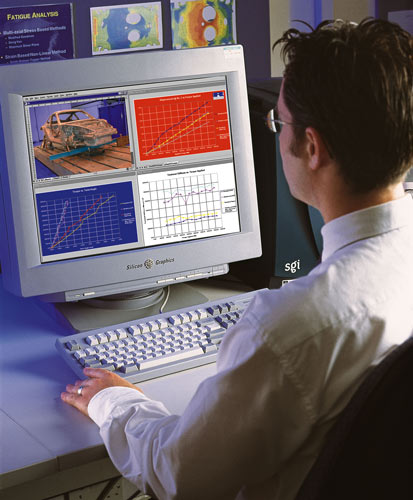 CHASSIS STRENGTHENING

Developed through analysis and testing, a package for the 911 (Type 996) bodyshell which improves the strength and handling of the car. Bodyshell strengthening leads to significant improvements in torsional stiffness and improves suspension set-up and utilisation and subsequent handling of the car. Ricardo have tested a number of different 911 (Type 996) shells on a purpose-built torsional test rig, both pre and post modifications. The results highlight the improvements in torsional rigidity with reduced twist and point deflections all round and most importantly around the suspension pick-up points. Further improvements to iron out the weaker modes of twisting have been obtained by the addition of elements from the roll cage to the body. These have been positioned and tested to obtain uniform torsional rigidity from front to rear. Unfortunately because of the ACO's and FIA's stringent regulations these can not be included for Le Mans, ALMS and FIA GT races but are available for other series.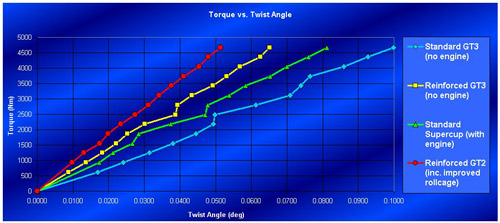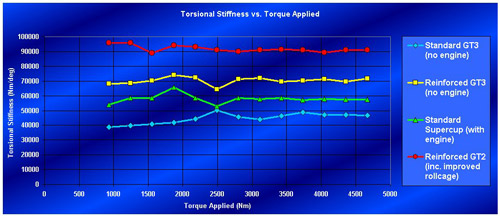 The enhanced torsional stiffness particularly helps with suspension set-up where each change to the suspension settings has an effect. With standard bodyshells the suspension can require a larger increment of change before any difference is evident as the car passes through the particularly non-linear torsional stiffness modes.

SUSPENSION KIT

Main Springs

High quality variable rate coil springs for front and rear application for use with enhanced shell

Rear anti-roll bar mount kit

Solid aluminium mounting bushes to suit standard Porsche 2000/2001 roll bars providing enhanced location and subsequent stiffness in operation. Alternative blade available to facilitate rate change.

Front anti-roll bar mount kit

Improved drop-link system facilitating full adjustment range for Porsche 2001/2002 anti-roll bars with enhanced location and subsequent stiffness in operation.

Tuned dampers

Moton dampers are recommended as part of this kit.

UP-RATED COOLING PACKAGE

The location of the standard radiators are susceptible to damage even in the event of light contact between vehicles. Ricardo alternative radiators locate in the standard position as dictated by the technical regulations but include quick-release mounting points and couplings. The radiators have improved survivability in the event of an impact and faster replacement time for more severe impacts.

Three piece radiator kit

High quality aluminium core and tank construction front and side radiators, incorporating quick release couplings to interface with standard coolant pipe fittings. Radiators are mounted on quick-release fasteners permitting rapid replacement.

ENGINE IMPROVEMENT PACKAGE

Engine Test and Development Service

Ricardo provides a quality test and development service for Porsche GT3 engines. Testing is carried out confidentially by skilled staff under strictly controlled conditions to permit accurate comparisons of build changes.

Ricardo currently offers the following test service:

Baseline test of your engine (either standard or incorporating your own modifications):
Accurate, temperature and pressure corrected power curve and fuel consumption data (options, at additional price, for additional instrumentation to monitor, for example, air:fuel ratio for each cylinder, total air flow)
Break-in service – your engine returned ready to race:
Break-in under controlled conditions to an agreed schedule. Supply of corrected power curve and fuel consumption data
Ricardo is also currently developing specific engine performance improvement packages, using Ricardo world-standard modelling software, as used by 6 of the current F1 teams. These can be provided individually or Ricardo-fitted to your engine. It is planned to announce these improvements later in 2002.


Copyright ©2000-©2016 TotalMotorSport