GRAND AMERICAN ROAD RACING ASSOCIATION
08/04/2006
Diaz Takes Pole for Crown Royal Grand American Challenge
Lexus On Pole At Long Beach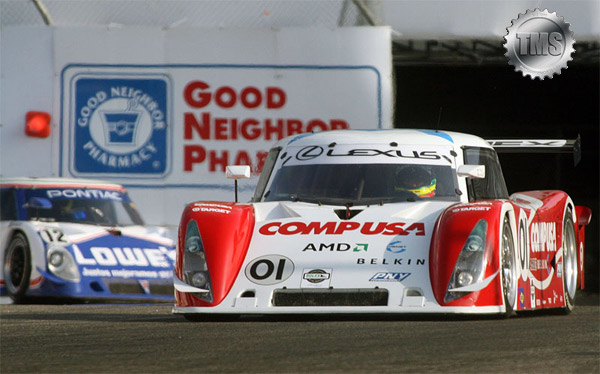 Diaz Takes Pole for Crown Royal Grand American Challenge of Long Beach

Mexican Luis Diaz claimed his third career Grand American Rolex Sports Car Series presented by Crown Royal Special Reserve pole Friday afternoon, establishing a Daytona Prototype track record in the No. 01 CompUSA Chip Ganassi Racing Lexus Riley with a lap time of 1:19.891 (88.681 mph) in the second of two qualifying sessions, and will lead the field in tomorrow's inaugural Crown Royal Grand American Challenge of Long Beach.

It is the first pole for Diaz since the penultimate race of the 2005 season at Virginia International Raceway, and the first time the No. 01 Lexus started from the front since the Mexico City 250 two races ago. In each instance, Diaz and co-driver Scott Pruett scored overall victories.

"This car has been fast all week and the team has done a great job getting ready for this big event," said Diaz. "Tomorrow will be a very competitive race, and us drivers that have experience on the track will try to use that advantage. The key today was getting a clear and clean lap."

Diaz made two Toyota Atlantic Series starts on the Long Beach street circuit—in 2002 and 2003, finishing sixth in 2003. Pruett is also familiar with the 1.97-mile, 11-turn course, having made 11 professional starts at the venue, including a Trans-Am Series victory in 1987.

"Scott tells me little tricks about every track he's been to and how it can make me faster," said Diaz. "He's a great co-driver and I am lucky that he's on my team. It was tricky getting used to these cars on this tight track, but if there's anyone that can help me through it, it's Scott."

Diaz and Pruett look to continue their climb in the Daytona Prototype driver standings this weekend in the Rolex Series' first visit to the famed Long Beach street course, and the first street course race for the series in its six-year history. The duo currently sits in a four-way tie for third place in the standings, just five points behind leader Jorg Bergmeister (81-76).

Patrick Long qualified the No. 23 Hirewise/10th & M Seafoods Porsche Crawford second for Alex Job Racing, posting his best lap time of 1:20.080 (88.472 mph) on the final lap of the first qualifying session. In a special qualifying format for the Grand American Challenge of Long Beach, the 26 entered Daytona Prototypes were split into two separate 25-minute qualifying sessions.

Jan Magnussen, substituting this weekend for defending Daytona Prototype co-champion Wayne Taylor—will start third in the No. 10 SunTrust Pontiac Riley after also posting his best lap time of 1:20.255 (88.279 mph) on his final lap in the first session. Magnussen will share the No. 10 machine this weekend with Taylor's co-driver in last season's championship run, Max Angelelli, who returned Friday night from Texas Motor Speedway, where he finished sixth in Round 2 of the Crown Royal IROC Series.

Starting fourth will be Michael McDowell in the No. 19 Playboy/Uniden/Palms Ford Crawford, who posted a lap time of 1:20.279 (88.252 mph) in the first session. Brazilian Mario Haberfeld will start fifth in the No. 12 Lowe's Fernandez Racing Pontiac Riley, qualifying at 1:20.665 (87.830 mph). Point's leader Bergmeister will see the No. 76 Krohn Racing Ford Riley he shares with Colin Braun start 13th, as Braun qualified the machine at 1:21.984 (86.417 mph).


Copyright ©2000-©2016 TotalMotorSport