SCCA GT CHAMPIONSHIP
08/04/2006
Archer Takes Opening SCCA SPEED GT Practice at Long Beach
Dodge Viper Quickest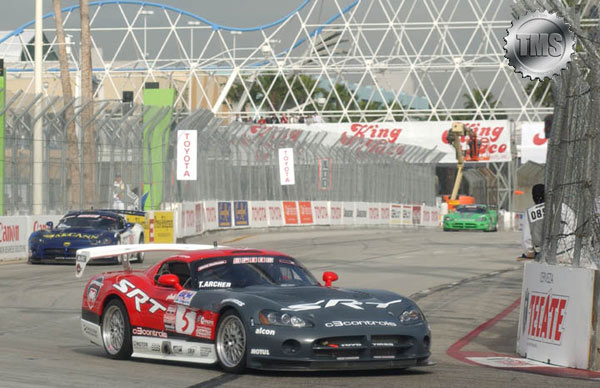 Archer Takes Opening SCCA SPEED GT Practice at Long Beach

Tommy Archer started his weekend off on the right foot Friday afternoon, taking the first SCCA Pro Racing SPEED World Challenge practice session for Sunday's SPEED GT race, part of the Toyota Grand Prix of Long Beach. Archer's time of 1:27.348 (81.110 mph) in his No. 5 c3controls/Autohaus Dodge Viper put him ahead of LG Motorsports teammates Lou Gigliotti and Tomy Drissi who were second and third, respectively.

After a rough opening two rounds to the 2006 SPEED GT season, which included a ten-point penalty for contact following the second round at St. Petersburg, Archer turned in a solid performance on the 11-turn, 1.968-mile street course, turning his fast time on his eighth lap.

Experience, Archer said following his run, played a key role in the way the field shook out in the first session.

"You've got to understand, a lot of these guys have never been here for one," Archer said. "Some of them, even though I was here in 2001, I think [Ron] Fellows was here in '96, the track has changed a little bit, and they were different cars. We had slicks on those [Trans-Am Series] cars, and these cars have street tire. It's cold out, so it took a while to get heat into them. Plus, I had a little problem in the pits.

"But, I didn't come here expecting to be slow, and the other guys, as they learn the track, they'll pick up the pace."

Archer's performance was especially noteworthy considering his team was thrashing to put the Viper back together again as late as Wednesday morning a result from contact Archer incurred at St. Pete.

"Autohaus has good guys here and they worked hard. Dodge worked hard to get us the parts," Archer said, whose front bumper and hood are in a gray shade of gelcoat rather than the traditional Viper red. "We couldn't physically get the parts to the team until Wednesday morning. The car was in transportation until then anyways. So, you know, these guys have just worked hard. I just feel bad that I made them work that hard."

Gigliotti went back and forth with Archer for the top spot before settling into second with a 1:27.912 (80.589 mph) in his No. 28 LG Pro Long Tube Headers Chevrolet Corvette C6. Gigliotti's teammate Drisi, making his first appearance in the No. 87 X-Men 3 The Movie, Chevrolet Corvette C6, steadily climbed up the leader board, moving from just inside the top 10, to sixth and then to third within just a few laps, well into the 25-min. session.

Cadillac CTS-Vs took the next two spots, as Canadian Ron Fellows making his first appearance of the season for Team Cadillac in the No. 16 XM/Mobil 1/Motorola/On Star CTS-V, was fourth, followed by 2005 SPEED GT Drivers' Champion Andy Pilgrim in the similar No. 1 Cadillac.

Copyright ©2000-©2023 TotalMotorSport