GRAND AMERICAN ROAD RACING ASSOCIATION
08/04/2006
Pruett & Diaz Claim Victory At Long Beach
Lexus Takes Daytona Prototype Win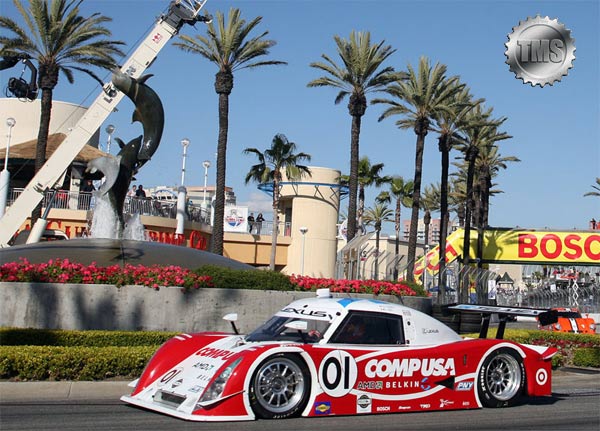 Pruett & Diaz Claim Victory in Inaugural Crown Royal Grand American Challenge of Long Beach

In front of a huge and enthusiastic crowd, No. 01 CompUSA Chip Ganassi Racing Lexus Riley co-drivers Scott Pruett and Luis Diaz made Grand American Rolex Sports Car Series presented by Crown Royal Special Reserve history by claiming victory in the inaugural Crown Royal Grand American Challenge of Long Beach.

In the first-ever street race for the Daytona Prototype class, Diaz led the first five laps after starting from the pole position. He surrendered the lead to Patrick Long in the No. 23 Hirewise/10th & M Seafoods Porsche Crawford when Long out-braked him in Turn 1 on Lap 6 of the 52-lap timed event, and Diaz brought the No. 01 machine onto pit lane with the rest of the front runners under the day's first full-course caution on Lap 11.

The caution stemmed from a scary four-car incident on the front straightaway involving Burt Frisselle in the No. 8 Shoes For Crews/Synergy Racing Porsche Doran, Eddie Cheever Jr. in the No. 39 Crown Royal Special Reserve/Cheever Racing Porsche Crawford, Rocky Moran Jr. in the No. 99 GAINSCO/Blackhawk Racing Pontiac Riley and Mario Haberfeld in the No. 12 Lowe's Fernandez Racing Pontiac Riley.

Moran suffered a sprained left ankle and contusions according to Dr. Mark Joyner at St. Mary Medical Centre in Long Beach, where Moran was transported following the incident. Moran will undergo an MRI on Monday to determine whether or not he suffered any ligament damage. He was the only driver involved in the incident to suffer injuries.

Diaz gave way to Pruett in the pit stop, and the 2004 Daytona Prototype co-champion managed to win the race off pit road. Pruett led the field to the green flag on the Lap 23 restart and held off Mike Rockenfeller in the No. 23 machine by 3.989 seconds to claim the second victory of the season for himself and Diaz. It was Pruett's first victory at Long Beach in 19 years, as the veteran of Champ Car and Trans-Am competition triumphed in the 1987 Trans-Am event.

"It's awesome to be here in Long Beach and in Victory Lane," Pruett said. "It's always fun and it's always exciting that's for sure. The (No.) 23 car kept us on our toes and it turned out to be a fast, qualifying pace, but this win was all teamwork. Lexus gave us a great motor with increased drivability. For the first time coming here to Long Beach, I think Grand American put on a pretty great show."

It was the second victory of the 2006 season for Diaz and Pruett—who also won the Mexico City 250 last month—and was the third win in four races this season for Chip Ganassi Racing with Felix Sabates. Today's performance moved Pruett and Diaz atop the Daytona Prototype driver standings with four of 14 races in the books. The duo holds a six-point lead (111-106) over No. 76 Krohn Racing Ford Riley driver Jorg Bergmeister.

"It feels like Scott and I are now even after this one," Diaz said. "He helped me win in Mexico City and now I've helped him win in front of his family in California. It's still a long way to go in the championship, so we need to keep our heads down and get the job done."

Rockenfeller and Long who led a total of six laps, earned their third podium result in as many tries this season with their second-place performance in the No. 23 machine for Alex Job Racing/Emory Motorsports. The duo previously won Round 3 at Homestead-Miami Speedway and claimed third in the season-opening Rolex 24 At Daytona, but did not compete in Round 2 at Mexico City. Despite missing a race, Rockenfeller and Long are currently tied for fourth in the driver standings, just 14 points behind the co-leaders.

"I was a little cautious at the start, but I wanted to prove I could get back in the lead. I picked off the 10 and then the 01 made a small mistake and I was able to get him under braking. Our car was really good in the transitions and braking zones. Mike did a good job to get back a place after our pit stop and bring it home in second."

"Our pit stop took a few seconds longer to add water, and when you do that the top teams like the (No.) 01 and (No.) 10 will make you pay," Rockenfeller said. "I was able to get back by the (No.) 10 car, but the (No.) 01 just had the legs on me today. On the last restart I was trying to set him up going into turn one, but I got into hard and flat spotted my tires a little bit and then he was able to open up a gap. We had a good car, but this was a funny race, being shorter than usual and the yellows."

Shane Lewis and Bill Auberlen combined to finish third in the No. 3 Southard Motorsports BMW Riley. Lewis was credited with leading Laps 12 through 18 under caution. However, the car was moved to the rear of the running order when Lewis and three other drivers failed obey the race officials' direction to drive down pit road and instead drove through the incident scene on the front straightaway. Despite the penalty, Auberlen battled back to the podium, which was the first in the history of Southard Motorsports.

For two-time Rolex Series GT champion Auberlen, it was his best overall result since a second-place run in the 2003 Rolex Series season finale at Daytona International Speedway. It was a Rolex Series career-best overall result for Lewis, topping a previous best of sixth at Virginia International Raceway last year.

"It's great to be up here on the podium, especially since I'm from Southern California," Lewis said. "Growing up here, I've known about this great event all my life, and it's an honour and a privilege to drive here with such a great team. Bill is a great driver, and when I drove over debris after the first mishap (on Lap 11), something made the steering real tight. I was hoping that he could hang on."

"The steering was tight when I got in, but actually, it made the car the best it's been all weekend," said Auberlen, also a California native. "We were just quick enough to keep ahead of the (No.) 4 car. When I saw the white and then the chequered and knew we finished third, it was a great feeling. I just want to thank this team for letting me drive this weekend."

Andy Wallace and Butch Leitzinger matched their best performance of the season to date with a fourth-place run in the No. 4 The Boss Snowplow Pontiac Crawford to make it four different engine manufacturers in the top four. The Howard-Boss Motorsports teammates also finished fourth in the Mexico City 250.

Mark Patterson and Oswaldo Negri Jr. completed the top five in the No. 60 Flight Options Lexus Riley with a fifth-place run for Michael Shank Racing. It was the second top-five performance of the season for Patterson and Negri, who opened the year with a second-place run in the Rolex 24 At Daytona alongside Champ Car teammates A.J. Allmendinger and Justin Wilson.


Copyright ©2000-©2016 TotalMotorSport