F-3
09/04/2006
Hitech Racing Scores In Euro F3
Jakes Takes Eighth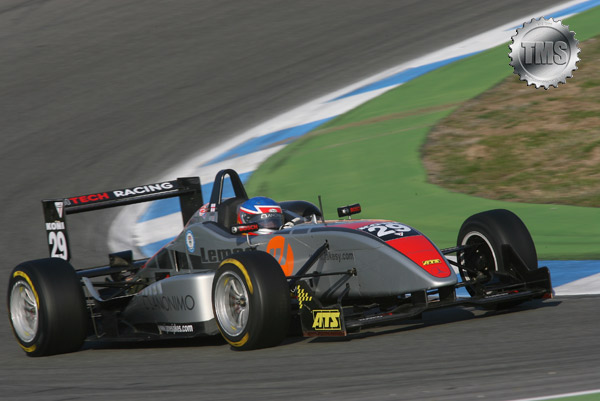 Hitech Racing Scores In Euro F3

Hitech Racing driver James Jakes took a superb eighth place in the second round of the F3 Euroseries at Hockenheim today, to finish top rookie and earn his first championship point of the season. His team-mate James Walker also impressed on his first visit to the track, making up seven places on the first lap before being forced out with broken steering after a collision.

On the team's very first visit to the track that hosts the German Grand Prix, team owner David Hayle was understandably delighted with their performance. "I'm very pleased. To get into the points on our very first attempt is a great result and I think credit must go to both drivers for their performances this weekend. In particular, James Jakes, as an F3 rookie to score points on his first event is a fantastic achievement. James Walker too showed some great race pace, putting aside the disappointment of his grid position and storming though the pack in both races. I think this has really set us up well for the opening round of the British series."

Eighteen year-old Jakes from Leeds was pleased to open his points scoring account so early, "I made a bad start and dropped a couple of places and then had a few battles in the early stages. Once I got past them though I was able to pull away and open up a bit of a gap. I'm really happy to get into the points and finish top Brit."

Jerseyman Walker put aside the disappointment of the collision with Charlie Kimball, which damaged his steering and caused his immediate retirement after just five laps. "I'm disappointed with the result obviously but I think we must take a lot of positives from this weekend. It was a new experience for all of us and I think has definitely set us up well for this coming weekend."

Silverstone-based Hitech Racing will now undergo a test on its home track early next week in preparation for the opening round of the Lloyds TSB Insurance British F3 International Series at Oulton Park this weekend, which kicks off with a three-hour test on Friday morning. Saturday will see two qualifying sessions take place prior to the two races on Easter Monday.

Copyright ©2000-©2023 TotalMotorSport